Whenever I get errors like this I always shake my head in disgust:

Seriously, what field type is this in their database table? They can't use a simple varchar 255? Are they stuck with 64K of memory?
Next there's this when I accidentally type in my username wrong: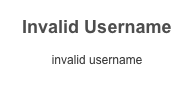 Say it twice because, ya know, I'm an idiot. I do, however, notice that one is in all lowercase.
Now that I've created an account and logged in, I try to connect the site to my Twitter account so it can find my friends:

I get the feeling that the developers are the ones being serviced and not the user.
Update: So I tried to "Stumble" this article (or whatever it is you do there) but StumbleUpon, yes I'm talking about you above, wouldn't let me. They told me they couldn't find tcrbang.com. Heebee geebee.
I deactivated my account. Funny that bit worked without a hitch.