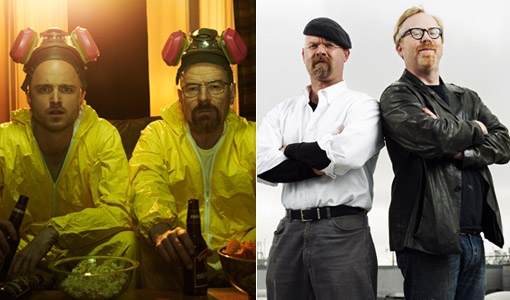 EW has learned that the Discovery reality series — in which everything from urban legends to Hollywood scenes are scrutinized in the name of science — will put AMC drug drama Breaking Bad under the microscope with an episode that includes appearances by star Aaron Paul and creator Vince Gilligan. "We've been wanting to do a Breaking Bad episode for awhile," says Mythbusters host Adam Savage. "Obviously there's a lot of fertile material to play with, so things that happen on the show have been ending up on our list of stories to tackle for a couple years now. And when Vince said in an interview that he'd love to see a Mythbusters/Breaking Bad crossover, we reached out to him directly and the response was overwhelming positive."

Savage and co-host Jamie Hyneman will test the science from a scene in season 1 of Bad, in which Paul's Jesse Pinkman uses hydrofluoric acid to dissolve a body but ignores instructions from Walt (Bryan Cranston) to use a plastic container. Jesse places the body in a bathtub instead and the acid eats right through the tub, which winds up falling through the floor. "Hydrofluoric acid is terrifying stuff," notes Savage. "It's not quite like alien blood, which is what a lot of people think when they think of powerful acids. It's poisonous in a way that is completely unique and very disturbing."
Ladies and gents, set your Tivos for this Spring.