I post things on Facebook and then people like them. And then sometimes I kinda feel bad because I don't reciprocate and like a bunch of things that others are posting.
And that's because I see the same things over and over again. Nothing wrong with what people are posting of course but I've seen the same friend's photo from 16 hours ago. At the top of my newsfeed. The last three times I've opened Facebook. There's little motivation for me to scroll more than a screen or two down when I see the same thing I saw earlier today or yesterday.
Maybe these duplicate posts don't show for people who spend a lot of time in Facebook. The ones that tap and click around much more than I do. There's good things in there I'm sure if I get in there and work it but when the first thing I see when opening Facebook isn't new, it gives me this back burner feeling that nothing's going on.
Yep, there's a setting to toggle between "Top Stories" and "Most Recent" and when I choose the latter, all is right with the world, the stars align. Sadly it doesn't stick and I have to set it for each and every visit.
Facebook knows that I like the Alien movies, too, it's no secret. So now I get to see the same exact ads until the latest movie hype quiets down. I end up hating whatever "sponsored" thing it is they're trying to get me to buy.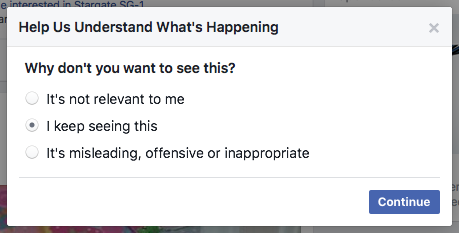 They've applied this same algorithm to Instagram, too. I see the same photos that I saw the last time and have to hunt for something new. I saw a promo code once but I missed the sale because it was "one day only." Yay, algorithms!
It makes me kinda sad and also kinda annoyed when I click on someone's profile and see a picture from 5 mins ago that was no where on my newsfeed.
Of all the things that Facebook is ripping off from Snapchat, the one thing they should cue in on: Snapchat shows things that're timely, in the here and now. Not things that are 10 hrs, 21 hrs, 22 hrs, or 11 hrs ago.
I saw them already. More than twice.