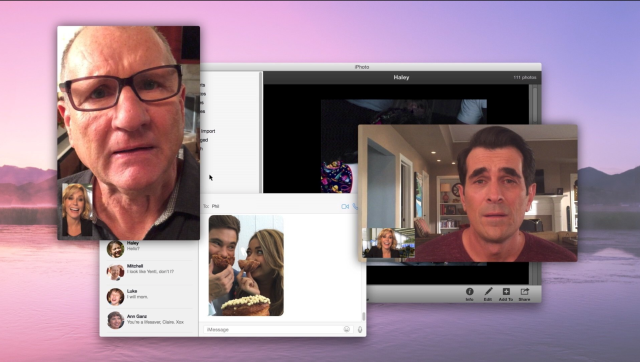 According to reports, the plot of the February 25 episode will revolve around main character Claire (played by Julie Bowen) trying to track down her daughter after a fight; as such, viewers will see the episode unfold from her laptop's primary screen while e-mails, Facetime calls, and texts pop up (along with visual gags like web browser usage to tell jokes).

Producers confirmed they built a fake OS X Yosemite environment, upon which they overlaid footage shot exclusively on iPhone 6s, "new iPads," and Macbook Pros; supposedly, the latest OS X was chosen so that the episode could take advantage of its "Continuity" feature. While footage was shot on actual iDevices, camera crews had to hold phones on actors' behalf and then film simultaneous scenes in disparate locations to mimic the feel of people talking to each other through video chat.
This is totally cool. We've watched Modern Family since episode 1.