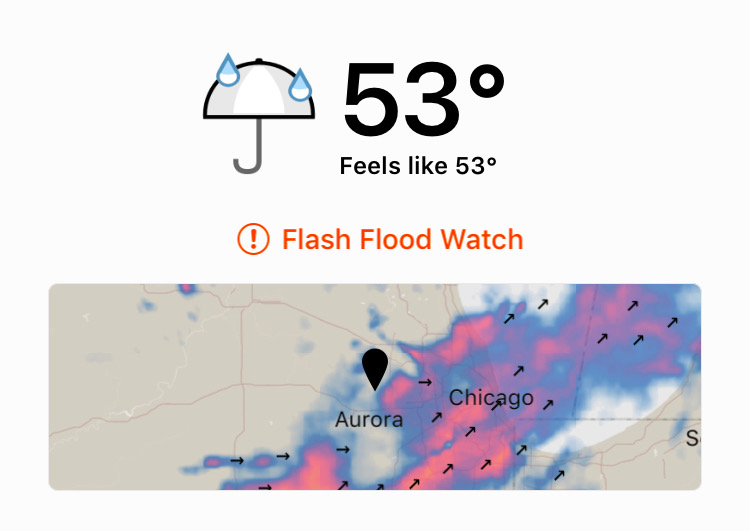 In my dream last night I woke up on a Saturday morning after it had rained all night. There was a commotion outside so Sara and myself went to my bedroom window and saw that most of the houses in my cul-de-sac had washed away. Including the Fleet Commander's. FEMA or similar were there with shipping containers along with the National Guard.
🌧
I ran down to the basement to be sure the fortress was secure. Wind and rain were showering in at the foundation because the pink insulation was barely intact. Probably because the cats are always pulling the fiberglass out and throwing it on the floor.
🐈
Sara came downstairs and we thought it best to get all the kids off to school and away from the Genesis flood narrative that was upon us.
Somehow our 4 kids multiplied into 9+ kids and I said in my most ludicrous voice, "my God, I'm a man not a school bus!"
🚌
I went out to the garage to check on my truck and noticed the front passenger tire was flat. Sara came out and suggested that we go get coffee since the kids had left for school. Then we walked over to the coffee shop since the weather was calming down.
☕️
After ordering our drinks I realized that the coffee house was indeed half craft store. The smell of soaps was unbearable.
Then I was back in my garage with my truck but it wasn't really a truck. It was a jeep tractor. He had a plow on the front and everything. But not a roof, only a roll cage. I drove it with a flat tire to a repair shop that I'd never been to before.
The tire store was similar in look and feel to the one Clark encountered on his family vacation. However, the technicians were cheerful and upbeat. We looked at that flat tire and then I realized something was off.
🛠
The three wheels that weren't flat didn't have tires on them at all. They were just metal rims like tractors of the olden days.
BUT the tire that I thought was flat DID have rubber on it. It wasn't securely on the rim either, just wobbling around like an asshole. I told the technician to do what he could and then thought I should head back to the coffeeshop/craft store.
Sara was eating an Avocado/Scottish egg hybrid thing when I got back. I didn't know what to make of that but she seemed to be enjoying it.
🥑
And then I woke up.
Moral of the story is (again) this is why you don't tell people your dreams.