Audio (MP3): 20180904 - Crosswalk of Certain Doom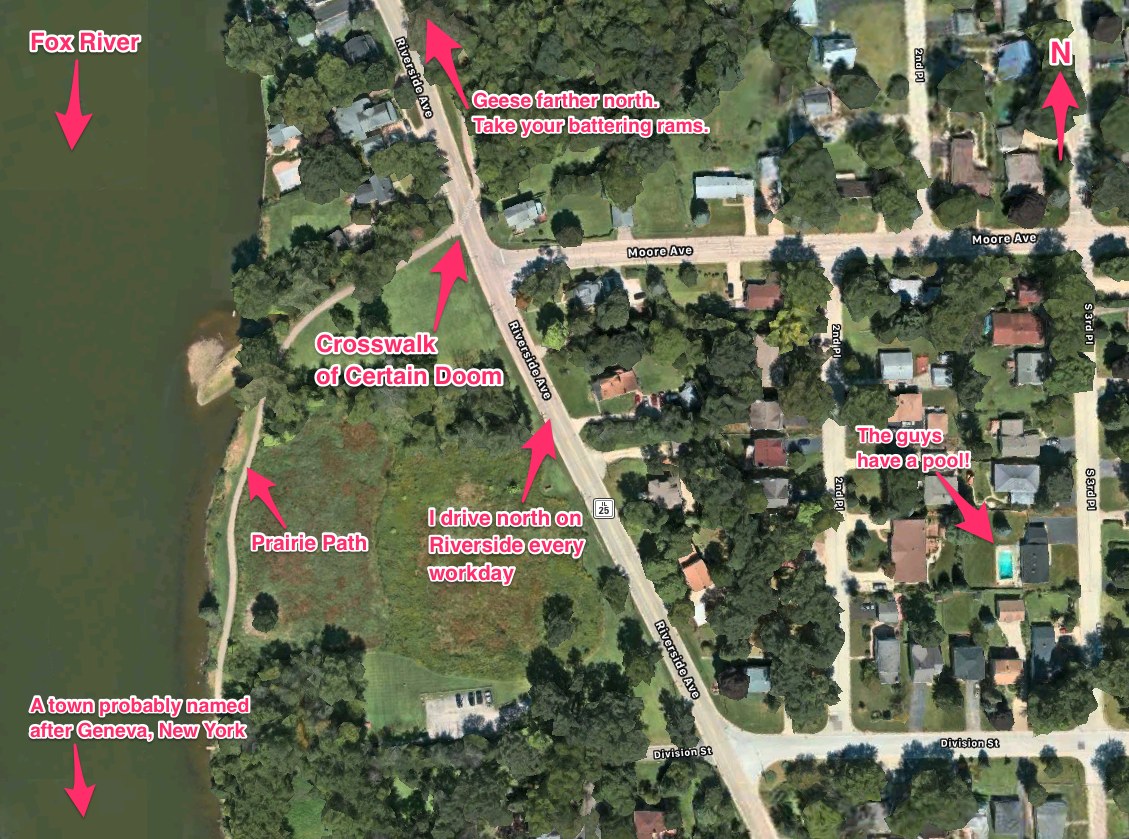 The scene, of course, is my truck as I'm headed to work.
Driving along Riverside Avenue and following a Toyota Corolla. The speed limit is 35 mph and we're both sailing along about 40. There's maybe two or three car lengths between us.
Other cars are around but they're only slightly involved.
Up ahead is the Prairie Path crosswalk at the intersection close to Moore Avenue. There are two or three people standing with their bikes waiting to cross. Those crosswalks are always a gamble, as you never know what the other drivers will do if people are waiting.
The car in front of me doesn't change speed and I look over at the Fox River. Not more than a second later I look back at the Corolla I've been following and the taillights are lit up. We were still doing about 40 only moments before and then she comes to a complete stop in about three or four seconds. The cars driving in the opposite direction don't bother.
I stomp my brakes with both feet. My computer bag, my lunch bag, and my trail mix all fly forward and hit the dashboard.
Now then. Let me step up to my soapbox.
- - -
1. People out in groups riding their bikes at morning rush hour are most likely out for recreational rides. Maybe not, but with their racing gear I would tend to think so. So… you can't bring the whole world to a stop so they can get across the street. They can wait.
If anything, don't make it a last minute decision. Doing the "right" thing at the "wrong" time will only get us in trouble.
- - -
2. Most of the time people don't see us or what we're doing in life. I'm not that important that every other driver is out there thinking, "The King of Geneva is headed to work. I better layout the red carpet and be on my absolute best behavior. Did anybody polish the trumpets to announce his trip?"
While driving earlier in the morning another lady pulled out in front of me. Her windows were covered in morning dew. She hadn't bothered, at the very least, to roll down her windows so she could see.
I watched her turn right in front of me, moving at a snail's pace, no wind in her sails. Slow going because she had 2% visibility. I kinda wanted to really lay on the horn because she was obviously in the wrong and a hazard to society.
But I wasn't in a hurry so whatever. I just saluted her as if she were my superior.
- - -
3. There's a difference between expressing our feelings and getting even. The former is what I'm doing now. Getting even would've been me riding either lady's ass until my frustration passed. It would've been me roaring around like I was a villain in Mad Max, and then cutting them off and thereby teaching them a lesson.[1]
Yes, I did swear like a furloughed drunken admiral at the earlier crosswalk of certain doom.
And I would've scolded her if we were face to face, but me revenging behind the wheel isn't going to prove any points. Nobody's gonna throw me a parade, nor will it give me any long-term, deep-down validation that I was right. Revenging is gonna give me a list of all the times other people pissed me off. It's gonna keep me angry until I'm old and dead.
More importantly: it's okay to be agitated when people step on our toes. Feel that, deal with it, love it. We'll never get to the point where our only feelings are the ones we want, or to the point when everybody does the "right" thing at the "right" time.
What can happen, though, is for us to learn how to be okay with and also becoming highly skilled sailors at navigating life's rough waters.
We've had heavy thunderstorms, lightning, rain, all of that in the Fox Valley the last week or so. We can't stop or change nature, it does what it wants.
And it's our nature to have a full weather system of feelings, too. It's natural for us to be annoyed with people just the same as it's natural for us to be sleepy come bedtime.
Sweet dreams.
#trafficnews #advancedsoul #diariespodcast
---
Protip: people don't learn to be better drivers by me riding their ass in these scenarios. They learn that other drivers are jerks. ↑