Audio (MP3): 20180128 - Holidays come once a year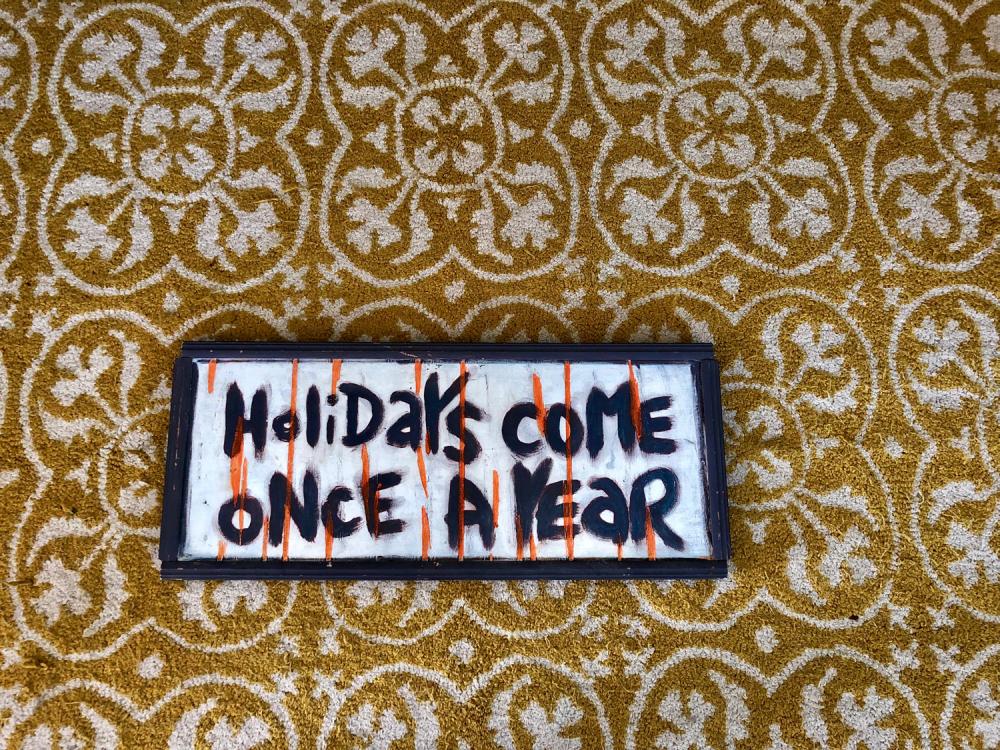 In the mid 2000s I made and hung this sign in our kitchen. Because I'm an asshole.
I never really think (or have thought) about anybody else.
Like if I have four hours of no responsibility I will sit and play video games for four hours. I won't call anybody, I won't go see anybody. I'll just do my own thing.[1] And it's not like that hate people or whatever. I honestly just don't think about them when I'm full of me.
Sure, when I was a kid, teenager, 20 something I would call people and wander over to their houses because I wanted to see them. But everything was just based around what I wanted to do. It wasn't up until a few years ago when I started thinking outside of just "my box." And trust me I still don't always think outside of me all the time or by default.
Isolating from other people really kicked in when I got married. I would just hang out with my ex-wife and the girls. My life's dynamic changed from being single and stealing wheelchairs to being a homebody.[2]
But still even being a husband and a dad, most of what I did at home was centered around me and what I wanted to do. Okay, not all of it but if I didn't have anything to be responsible for I was off doing my own thing or finding something on TV that I wanted to watch.
Here's a good example.
After the girls were in bed I never said to my ex-wife, "Let's watch show X because I know you like that one." Sure, I would watch her shows but the thing is: it was never my idea. I never said to the girls, "let's go eat at restaurant X because that's your mom's favorite place."
Fine, it would be my idea if it was Mother's Day but that's a bunch of shit. It's the days that aren't holidays, the days that aren't special — those are the ones count.
It was even more horrible when I was drinking. "I'm gonna go get donuts for us this morning." That was really code for "I'm hungover and going to the liquor store. And after I've took 2-3 healthy shots just to mute the fires of hell, I'll bring back a box of random donuts."
Brief aside.
Spiritual? Humble? Me? You'd be humble if you were me, too. If you wanted to make breakfast for your family, because you'd changed, because you realized sitting by yourself in "your box" was kinda lonely — and then nobody was home.
No, I'm not coming down on myself or feeling like I fucked everything up. I've came to terms with falling down in life. It's more like after reading Mark Manson's article[3] on loss I was doing some self-evaluation. It's good for me to do spot checks on my behaviors lest I go down to the basement in the morning and then come back up when it's dark. And didn't even know the sun had came and went.
Maybe it's just how men are wired, too. Hunting, gathering, and gaming in the basement while the women are nesting and making dinner for the family. I never made dinner for the family when I was married. Well, I used to make pies every Sunday night but it wasn't because I was making banana cream for us as a family to enjoy. I was making it because I like pies, like making pies, and like eating said pies.
But seriously though.
Sometimes Maggie's with her mom for the weekend and I'm home alone and then because I'm real good at thinking, I think about stuff. A lot. And again, not in the self-deprecating kinda way but more in the "here's my part in a series of blundering events and moving forward I'd rather not repeat ye blunderings."
And yes, life can still be all about me. It's my life and I have things I want to do, shows I want to watch, ad nauseam but my takeaway after my last great loss is that other people are what counts. Messaging someone, asking if I can come over just to see them, just to hang out, well that gives me a good feeling that finishing the next level in my video game never did. Because I know I'm doing it for them and not for me. Because I want to. Because fellow humans are sacred.
#photos #confessional #relationships #diariespodcast
---
Jimi said to me once, "you're too good at being alone." ↑

I'm not complaining. Most days I don't have the energy to go out after dark these days. ↑

I didn't read it in its entirety because as he said, "it's a monster of an article." ↑