Audio (MP3): 20170307 - We'd pray as a group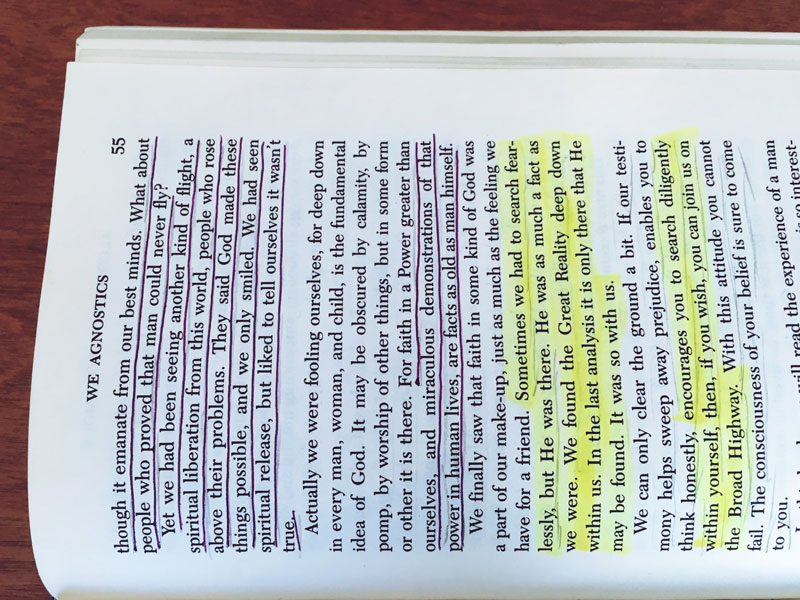 Some of you may have heard part of this already. It needed an expounding.
So back when I was a teenager and drinking and being out of control and kinda sorta wanting to be sober, my dad suggested I read the We Agnostics (PDF) chapter from the Big Book of Alcoholics Anonymous. I read it because he asked me to but I was resistant to the whole Higher Power thing.
Not that I didn't believe in God or the destruction of man by alcohol — I certainly did. My mom and I read The Man from Ida Grove by Harold Hughes way back before I went berserk. I knew the story and how alcoholism could play out. My mom even helped me memorize the Serenity and Lord's Prayer during that era.
Also when I was a pre-berserk kid I'd go off to church with the neighborhood friends and after the sermons and the whatnots, we'd pray as a group. I'd mouth the words but never felt the power and the love of God as they seemed to. Those friends had peace when they were young, a confidence in their place in the world that I was obviously lacking.
Most of my childhood life I was deathly afraid I was going to hell. I saw God to be an angry Santa, all too eager to kick and cast you down below because you weren't living up to expectations. I didn't even know what those expectations were let alone what I was supposed to even be just doing. Other than being a "good" christian like those neighborhood friends.

Anyways… My dad talked to me about the whole electricity part and while it made sense and I could understand the logic and reasoning, I hadn't completely surrendered, wasn't willing to give up control. I was too close minded. I wasn't even on Step One. Still berserk.
I never got into a bathtub with a shotgun like Hughes' did but on my darkest day I was there emotionally just the same.
But once I was "driven to AA" as the 12x12 puts it, the notion of a Higher Power came pretty much right away. I didn't care about We Agnostics' logic or science or explanations. I was at the point where if somebody told me to "stand on my head in the corner to stay sober" then okay.
No more intellectual justifications as to why God exists. No more Wright brothers or electrical currents. I wanted to be sober because everything I was doing not only wasn't working, IT WAS HORRIBLE.
And not only did I have the willingness to do anything to stay sober but after the meetings and the whatnots, when we'd pray as group I felt the power of God. I needed God and God was there. Even though I felt batshit crazy, I had touched that elusive notion of peace and confidence that everything was going to be okay.
It was important for me to be with my kin for the God thing to work, too. I didn't feel bonds with those neighbor kids at church because we played on different levels, probably in different space-time dimensions. The people in the meetings though, they were my spiritual brothers and sisters.
Anyways 2… to wrap this up my point is: my newly sober beliefs in God were all spiritual and not rational. Still are.
My brain is good for math, not finding God.