Audio (MP3): 20171117 - FREE dismantled treadmill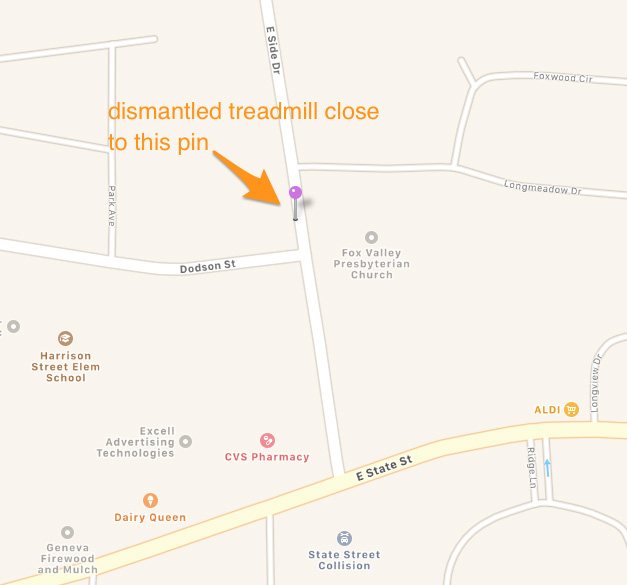 Guys, there's a dismantled treadmill on East Side Drive, a little north of Dodson Street here in Geneva, Illinois. I'm assuming it's free since it's resting comfortably on the curb.
Whenever I see a treadmill or a stationary bike on the side of the road I think about the soul who drug it out there. The man behind the space-saving but typically heavy machine. The one-time motivated spirit who let go of her dreams of in-home exercise. Wanna talk about walks of shame? That's one right there. Walking back to your house after publicly abandoning the notion of regular workouts and saved gym membership fees.
I'm no stranger to all of this. My rowing machine is downstairs, folded up in my laundry room. Under an old blanket. In a fitness cocoon if you will. My dreams were more along the lines of hallucinations, too. That I could get my stomach back to when I was a mere twenty-something, drinking sodas and eating donuts without a care in the world.
Anyways, now that I think about the trainer contraption I saw only moments ago, I don't know exactly what kind of phys-ed machine it was. Remember, it was in pieces. But in any event I'm sure it'll be there all day. I would've taken a picture while driving by but that's a school zone and the crossing guard was already giving me the evil eye.
Plus, I like to stop in at the 7-11 on State Street at least one morning a week.