All my email is hosted through one of the domains I own. I don't use Gmail, Hotmail or any of the other free web-based emails for email anymore.1 I don't trust 3rd parties with my sensitive data, I 'spect I've grown senile and paranoid these last few years. As more and more people use the "cloud" the less and less I want to do with it.
Since I don't use webmail, I need a good desktop app and Postbox is this editor's current pick. It does everything I want, the search is almost perfect and the keyboard shortcuts are to die for. It does have its quirks but that's for another time.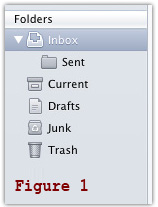 My Inbox is set to fetch email from the server via IMAP.2 I don't use POP3 because I want my Inbox to be available from any device, at any time. The IMAP folder3 structure is simple. Gmail taught me to search, not sort - see Figure 1.
There isn't a client folder or a project folder or a vacation folder or a whatever folder. The biggest time sink I've found is to file emails based on this or that, rules that aren't universal. I barely want to think about which folder an email should go into. The whole client/project folder structure breaks down as soon as more than one project/topic is discussed in an email. Then I'd need to think about which folder the email should go into and I don't like doing that.
I go through my new email first thing in the morning (about 60) and keep up as the day goes by. I don't ever let email pile up for more than a few hours and maybe for a few days if I'm on vacation or so. Luckily my job permits/requires me to keep my email open all day.
When an email comes in I make a decision after skimming the contents almost immediately:
Q: Is it a forward
A: Yes? I skim or read further depending on the amusement level. Then I delete or archive it to the Current folder with Postbox's single A keystroke. Simple and fast.
Q: Is it directly to me and needs a reply?
A: Yes? I either respond4 right away or flag it with a ToDo topic.5
Q: Is it to me but doesn't need a reply?
A: Yes? I either flag it with a topic or archive it immediately.
Q: Is it spam or something I don't want in my Inbox again?
A: Yes? I flag it as Junk, unsubscribe, whatever so I don't ever receive similar emails again. This is a critical step - email overload often comes from getting a bunch of crap I don't want. Many people never do anything about this. Do something.
After marching through the Q/As above, the only emails I have left in my Inbox are the ones that I either need to take action on or am waiting on an action from somebody else. This is how I want my Inbox, this is bliss. I don't care about "Inbox Zero" because there'll be more tomorrow as soon as the sun comes up.
Note: the Current or archive folder is somewhat special. It only contains the current year's archive of email. All email before this year lives in a local account and kept in yearly folders. If you want your email set up like this, grab your nearest geek, they can help.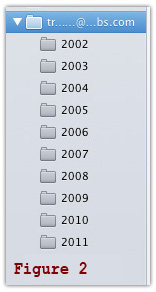 This structure helps keep the IMAP sync speedy and the local folders organized. This is more efficient than the client/project method above. See Figure 2.
Each day I try to spend an hour or so acting on and responding to emails that have been flagged ToDo. I set dedicated time in my schedule for this and don't pay attention to Twitter or Facebook. I think of this like bill paying time, it has to get done. People need answers just like the utility company needs to get paid.
With personal email, I might not respond for a week or two if it's not urgent. They can wait.
"We meet again, at last. The circle is now complete. When I met you I was but the learner. Now, I am the master."
I can be quite obsessive with email but the goal is for me to be the master and email the slave, not the other way around. I have no problem finding that one email sent two years ago about such and such. I also delete 3/4 of the FW:s I get before I get two lines deep.
It's my email, I run it my way.
Of course, the entire Postbox profile is backed up nightly to a separate machine and weekly to a third. Your nearest geek can help with this, too. There will come a time when your computer dies. Be ready.
---
1 I still have the Gmail and Yahoo accounts but I use them mainly for throw-away stuff and just in case somebody sends something there.
2 The downside is that IMAP can be slow when syncing between my computer and the server for the first time.
3 The "Sent" folder only exists because my phone refuses to put sent emails anywhere else. If you're writing email software, please let users specify all folder locations.
4 Email sent from me automatically goes back to the Inbox. Both the original and my reply email are then archived to the Current folder.
5 Single keystroke, color-coded topics I use:
1 ToDo emails I need to act on.
2 Waiting emails I'm waiting on a reply on.
3 Watching emails I'm interested in.
The last topic generally has conversations between other people that I'm CC'ed on. If these aren't critical emails and nothing happens with them after a bit, they get A.
---
Update:
• I'm running Postbox 3.0.1 on a Mac but the concepts will apply to any email program. However, your mileage will vary with regards to Postbox shortcuts and settings.
• To create topics as mentioned in 5, open Postbox's Preferences, click "Display" and then the "Topics" button. Add, edit, delete as you like.
• To use the A shortcut, open Postbox's Preferences, click "Accounts", expand the email account and choose "Copies & Folders." Under the "Archive" section, choose your archive folder and any high-lighted email will auto-magically move there.

Postbox also lets you move emails by pressing V.
As a note, you cannot change the keyboard shortcut bindings from within Postbox itself.
---
Update 2:
I've gotten a few emails about this post (imagine that) and this piece is more about how I manage the emails themselves. I'll write a follow up that is more in-depth on how I use all of the neat things you can do with Postbox.
Also, I manage seven fairly active email accounts with it for those wondering.
---
Elsewhere: