Why a printed magazine?
At this hour?
Because in the here and now everything is all online and a big part of me hates that.
There's nothing to hold, nothing to attach memories to, there's nothing to show my friends unless I hand them my phone and that makes me shudder. And phone screens are small and meant for one-on-one use. They're solitary devices and they turn me into a solitary person.
Have you ever tried to your show off adventure photos or watch a YouTube on your phone while you're sitting on the couch in between two friends? The horror!
And then when I'm by myself I'm scrolling through hundreds of pictures on the Snapchats and Facebooks and the Instagrams. And then I'm on to the next hundred. The photos and the words loose meaning and and I forget about them. Forget about the people and experiences and those adventures. They're lost in the gushing waterfall along with everything else as I'm swiping up.
Anyways, I have thousands of pictures and they're all in the cloud and I can look at them anytime I want. And I love that. But what I don't love is that I have to pick up my phone if I want to see them, want to show something to a friend that's standing right beside me. Or when I remember something, a photo or a conversation and then I try to find it.
Ever go back more than a few days looking for something on ? Again with the horror. Snapchat doesn't really keep archives and I suspicion they don't is because of 1- the would-be storage requirements on their end and 2- they know how unwieldy and impossible it can be to search.
This isn't a manifesto of sorts, that I'm giving up my phone, that we as a world are spending too much time on social media or whatever. We're past and there's no going back. It's just me saying I want something to hold and I want to give that to you, too. It's not by accident that everything I sell is something real.
What I absolutely love is when somebody says, "I put my coffee on that coaster every morning" or "your magnet is in my cube at work" or when I'm at somebody's house and I see one of my pictures on their wall. Tangible things become part of our lives. We see them everyday as we're just living, going about our day, and they produce everlasting memories.
I suppose now that I'm a smidge older having something to hold has become more important.
And yes, you can read everything online but that'd be missing the point of my manifesto.
I'll blog details on upcoming issues, etc. with this hashtag (click/tap it):
Ready to subscribe?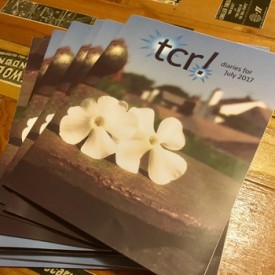 ---
YOUR AD HERE
Reach five monthly readers by advertising in the monthly diaries!
---
I got your magazine in the mail today and I reading it I'm to March 13th. It is so good!---- what the cluck was that? So funny!
I'm in tears one minute and laughing out loud the next you are amazing!
– Momma J.
Hey man I read the March 2017 tcr diaries. I love it!!!!
– John M.
Great magazine. Good photography and a lot of whimsy.
– Elaine O.
Ok, just finished reading your magazine, Laughed 🤣 and cried.
Your stories touched my heart especially the part my son Chad holds. Wish he was still here to have read what you wrote on page 11.
– Kristine H.

---
If you're more of a listener, check out the diaries podcast.