Audio (MP3): 20180425 - We, as parents, make mistakes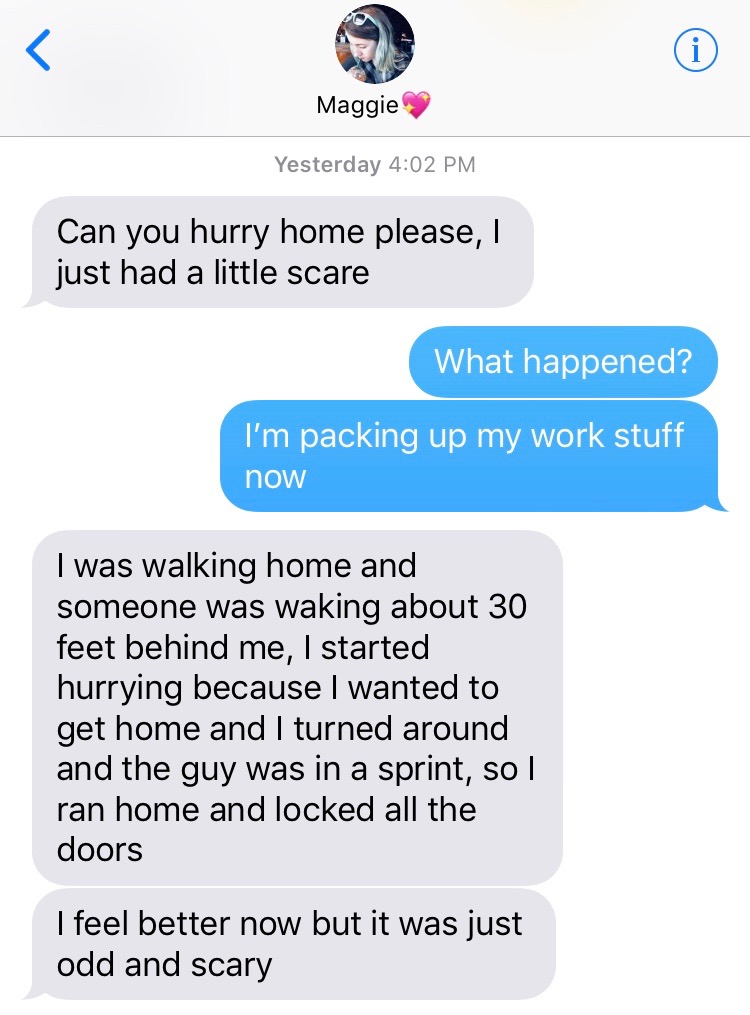 Maggie had a little scare yesterday. She had gotten off the school bus and was walking the minute walk back to our house down the alley. Some dude was also walking down the alley behind her and that didn't sit well with her.
I generally get home 15 to 20 minutes after she does and it's not that big of a deal for her to walk home and spend that time by herself.
Anyways, after I got back to the house we talk about what happened for a little bit, about the dude, and reviewed all the things you can do in a situation when strangers are following you. Be loud, be visible, make noise, make sure the whole world knows what's up. It's the same thing that animals do when they're nervous and it works pretty well for them.
It also sounded like the guy may have just been walking 30 feet or so behind her, just going in the same direction. I'm not trying to minimize the situation but I know for myself when I panic, things aren't truly what they seem. I got freaked out and freaked myself out several times as a kid when I was in situations very similar to hers. I can still freak myself out now as a grownup.
So anyways, here's the real story.
Last night when I was saying good night to her I thought of something else to say around the whole stranger-danger topic. I started talking about it and then immediately thought that it probably wasn't a good idea at bedtime.
I quickly changed the subject and we talked about something else for a few minutes. I was kind of hoping she'd forget about the whole. But people who're more on the nervous side, they don't forget.
This morning before school I said to her, "Last night I brought the dude up again and then realized that I shouldn't have considering what time it was. I hope that it wasn't on your mind as you were going to sleep. What is it?"
She said that it was for a little bit. I then told her I was sorry and that was the wrong thing for me to do, wrong thing for me to say. She nodded a little bit, absorbing what I'd just said. And then we got on with our day.
It's important for me to be humble, for me to be human, failings and all, as a parent in front of Maggie. It's okay for our kids to know that we as parents make mistakes. And more importantly, it's good for them to hear us own it, too. Our kids will model their behavior after ours. Who they become as adults is directly influenced by who we are to them as parents.
And lastly, it's crucial for me to ask direct questions if I'm worried that I've made a mistake. Like I asked Maggie if what I said had kept her up the night before. I could've just said that I hoped our bedtime talk wasn't on her mind too much while she was going to sleep and left it at that. But that's not good enough. I needed to ask her point blank if it was.
If I wouldn't have asked her it would've left her alone with her feelings. That those uncomfortable feelings were hers to deal with. I wouldn't have taken full responsibility for my part in causing them. And feelings like those need to be talked about, they need to be acknowledged by the person who was indeed at fault.
If I'm not 100% sure if I've done something wrong, I need to find out. Because that's part of owning what I've done. I need to take the initiative and shouldn't wait for somebody to tell me that I've hurt their feelings. Most of the time I'm pretty sure they won't.