I come home from work and nobody's here. I open the windows and hear the birds chirping. We're never alone, peeps. ❤️
I was thinking about this more this morning, thinking of how limited I am when I live in my own head, confine myself to only what I see in front of me.
When I'm home alone I'm regularly reminded of my aloneness. The sounds of my feet on the whitewashed plywood bounce around the walls just the same as my thoughts bounce around in my own head. It feels like living in an echo chamber inside and out.
Life is so much bigger than my dining room, than the four walls of my house. When I open the windows and expose my ears to something more…I'm reminded of that. I hear the wind in the trees with their leaves gently clapping. I hear the birds singing to each other and that little puppy dog yapping next door. I hear the cars going to and fro and the neighbors living their lives just a stone's throw away.
---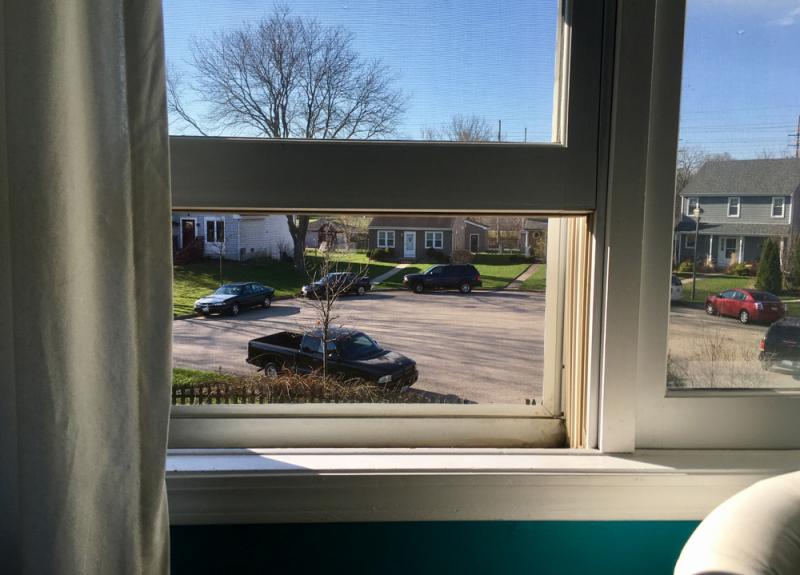 I opened a window at 8:43 am this morning
Opening the windows brings those sounds inside, fills my space with the reminder that we're never alone. There's a life-force inside all of us that bonds us together just because we're living beings. It doesn't matter if we're birds or leaves or human beings or puppy dogs. We're all linked just because we are. A network of neurons each transmitting our pulses to one another in the global space. That's almost too corny but whatever.
The only thing I need to do is open the window to un-sever that connection.
Sounds riding their waves, peeps. It's a magical thing.
PS- it's funny that I have access to the whole world by way of the internet. But when I sit on my phone my life feels small and shallow. When I open the window life is big and full.
PS2- thank god for Spring. Winter makes me wanna fly over the cuckoo's nest.