Audio (MP3): 20171120 - I really did paint my couch

Well, not all of it.
And of course it didn't go completely according to plan. Maggie and I were going to be gone all weekend and I had a time window of about 30 minutes on Friday to do my thing. I wanted to do it in that particular window, too, so the cushions could be drying until I got back home on Sunday afternoon.
When I brought them back in yesterday I wasn't tickled. There's a certain elation that I like to feel when a project is done and with the pink cushions I felt none. But I was a smidge hopeful they'd grow on me after I got them back on the couch.
But they didn't.
The paint was still damp, probably because the temperature has been colder, freezing at night, and so on. And the garage doesn't have any air flow either. No breeze, no circulation. And no sun light. So the cushions went out into the yard where I was hoping they'd de-fumigate in the afternoon sun and fresh air.
After the sun went down I brought them back in. Still not dry after their four hour sun bath. And still fumey. Maggie noted that it look liked somebody was murdered on our couch, that I could've just washed them to try and get the stains out. That's not how I do things though. There's this emotional drive, this overwhelming urge to put my stamp on all my stuff. I can't help it.
And what's more: when I was painting them I was in a hurry, just trying to cover up the stains. Too much function and barely a drop of form. I didn't have whimsy fun on my mind nor was I creatively expressing myself. I ran out of fabric paint in a matter of minutes so I resorted to using regular pink spray paint. Because I was gonna get them done in my time allowance. I was determined, focused, and intent. Tunneling down a path and there was no changing course.
And they looked like it when all was said and done, too.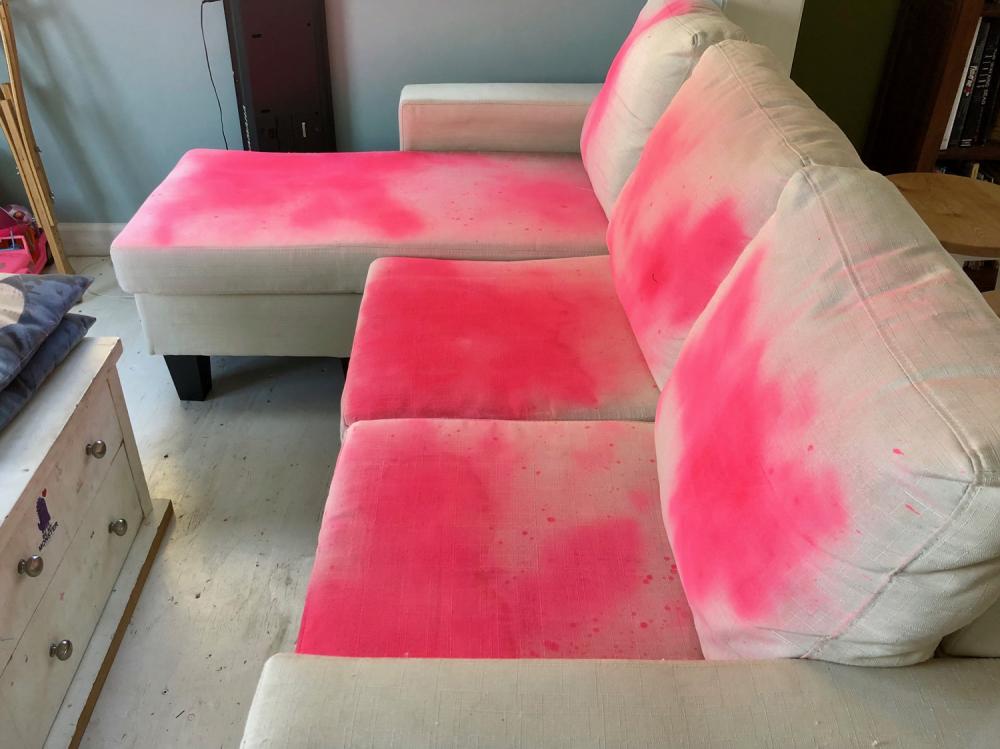 But I knew there was something to Maggie's thought of putting them in the wash. It might tame them a bit. I'm not above listening to another's feedback and if there's something there, if it feels right I'll act on it.
So off the cushion covers came and down to the laundry room we went. Now normally when I'm being artistic and fancy, I pause and ask the cosmos for guidance. I do this because I fuck shit up when I do it on my own. Seriously. Even when it comes painting or sculpting or any kind of building, I need to channel the universe's energy and the like. And back on Friday I was the boss, rushing through the sofa makeover like I was hosing down prisoners.
Anyways, I Spray 'n Wash®'ed where the stains were, set the washer to whites, added a splash of bleach to the soap, and then waited for the second round of results.
And I'll be damned if most of the paint didn't come out along with all of the stains. The covers were 90% perfect.
"Did the spray paint really come out in the wash?" you ask. Yes, almost all of it really did and I suspect it was because the paint wasn't completely dry and the fabric itself is like a linen, canvas material and not like a cotton t-shirt. Later when I was talking with Sara, she said that the fabric may have been sprayed with a stain-resister, too. Which makes perfect sense.
I washed them one more time to lighten them a bit more and then they were good to go.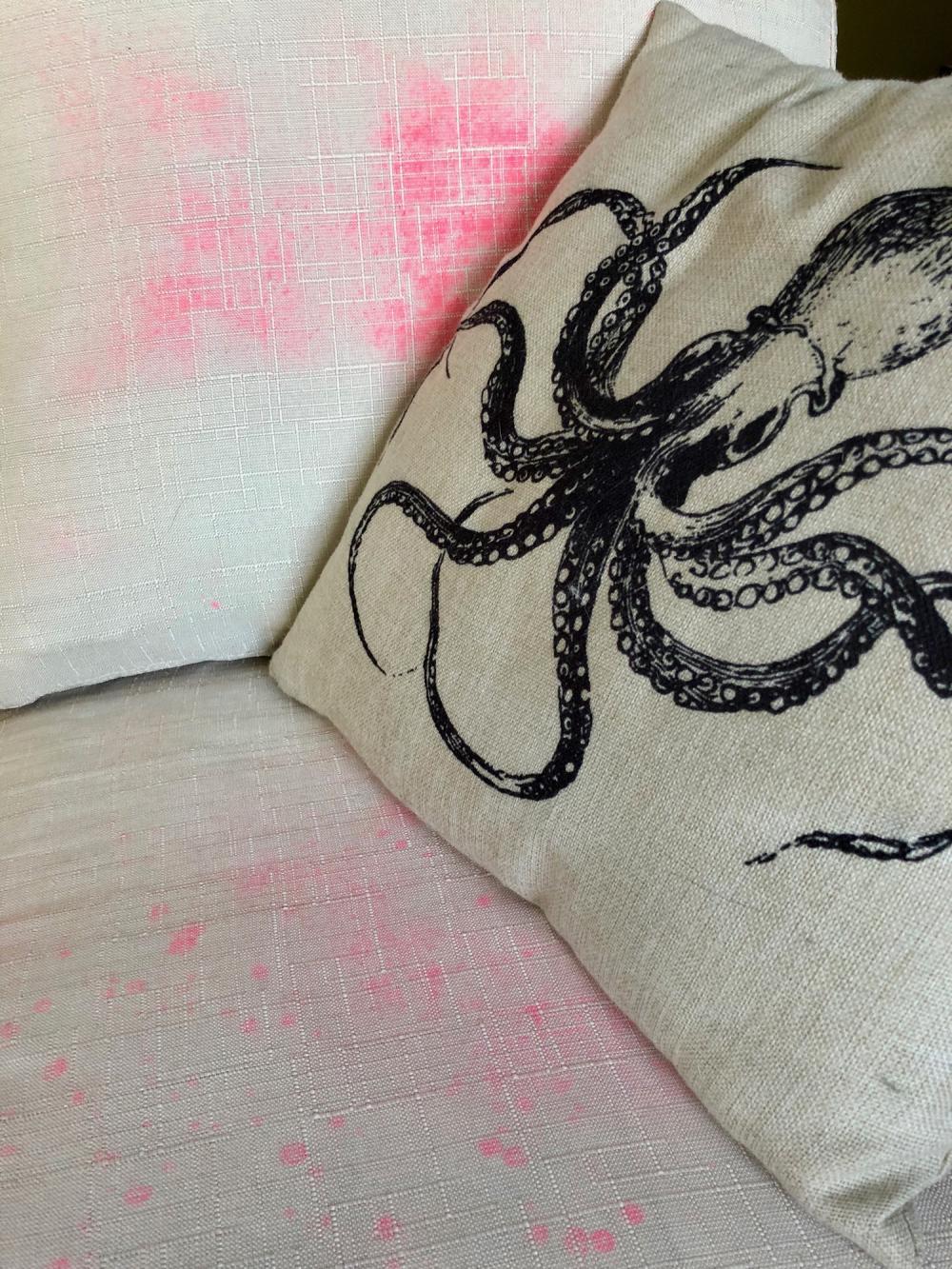 So there ya have it. The couch is as exactly as I want it to look. It's clean with a hint of color just like Albert's socks. Maybe a little more subdued that I originally planned but more often than not if I let the cosmos be my guide, things will turn out better than I could've ever imagined. Be it relationships or careers or spray painting your couch.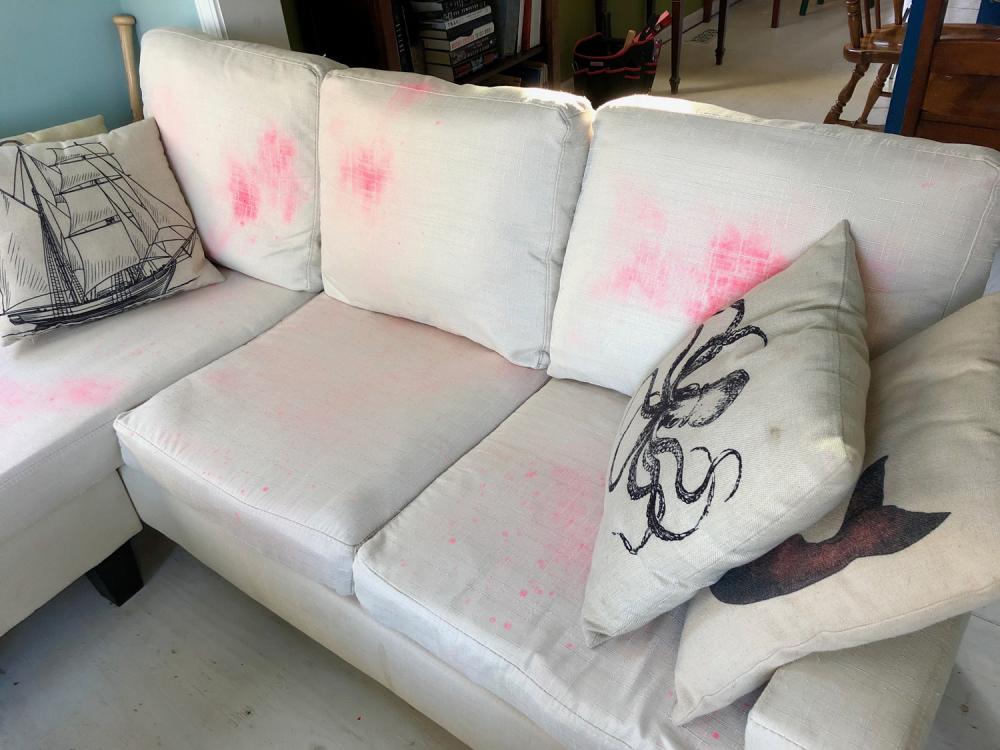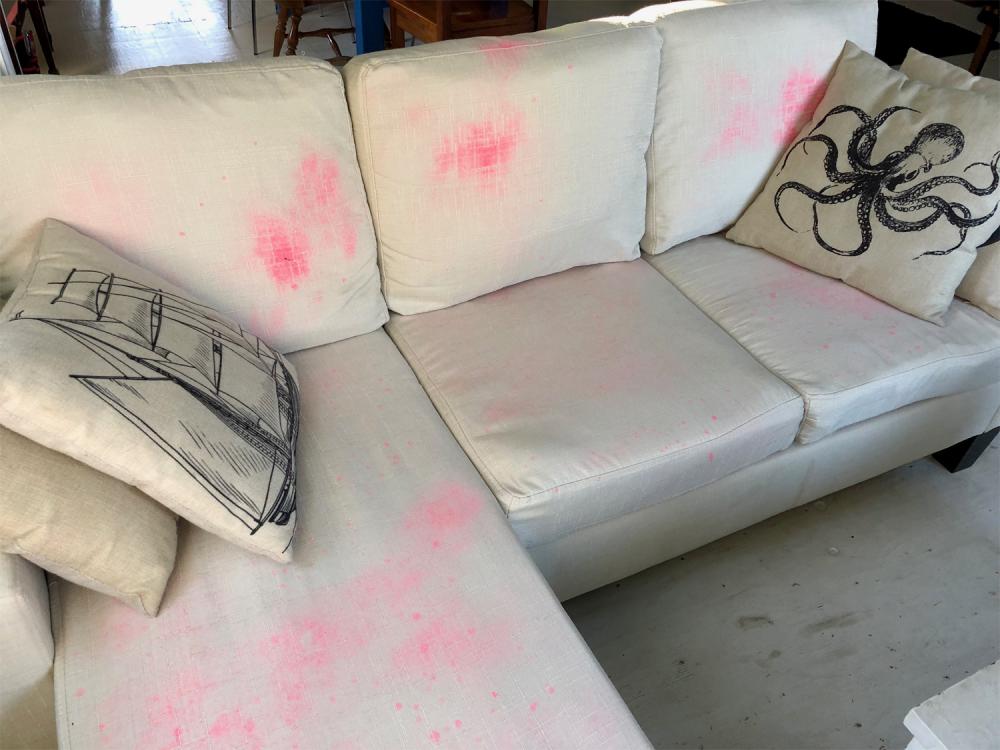 There's still one ink stain from a pen on the left but I can live with that for the time being.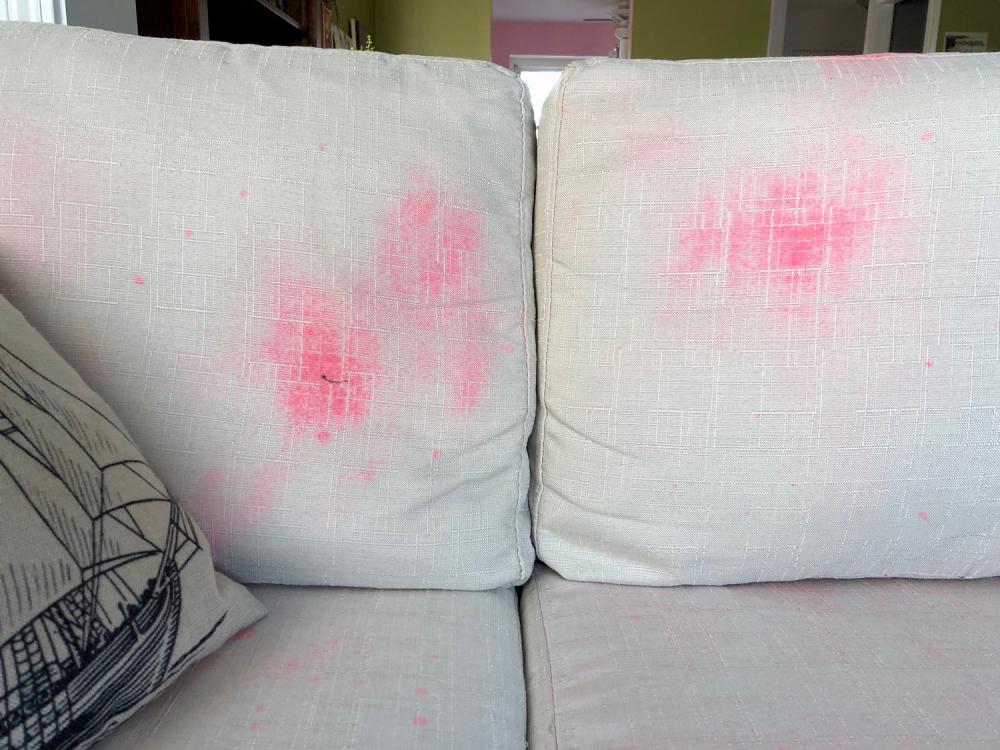 #photos #homeimprovement #pinkcouch #advancedsoul #diariespodcast