Audio (MP3): 20180910 - Each and every fallen crumb

As I was sitting again at a stoplight on Randall Road this morning meagerly minding my own matters, I casually looked to my left and noticed a dude in a car beside me having his breakfast. It was an Egg McBiscuit from McDonald's. Or whatever they call them.
In another era I, too, ate mobile breakfast sandwiches behind the wheel before work so I knew of his quest.
These years I craft my McMuffin clones at home, fine tune them to my exact specifications as if I were indeed Chef Michael of Schaumburg.
Now then this non-clandestine commuter was also drinking heartily from a Diet Coke. In a plastic bottle, mind you. I don't know about you guys but that didn't sit well with me. Not that I have anything against Diet Coke or bottled soda but cola and eggs should never cross paths in my mind. Or in my mouth. Maybe Chef Michael would disagree.
Even more, I questioned the crispness of this soda. "Dear god," I prayed, "let this man not be guzzling from last night's cola bottle."
Anyways. His refreshment is beside the point.
As he was lost in his own world of crumbling biscuit and melted cheeses, as he was navigating the creases of his wax paper with advertising tattoos, I wanted to raise my octopus coffee cup like a chalice to him in like a good morning salute. Let him know that he wasn't alone in his adventure, alone in the cosmos.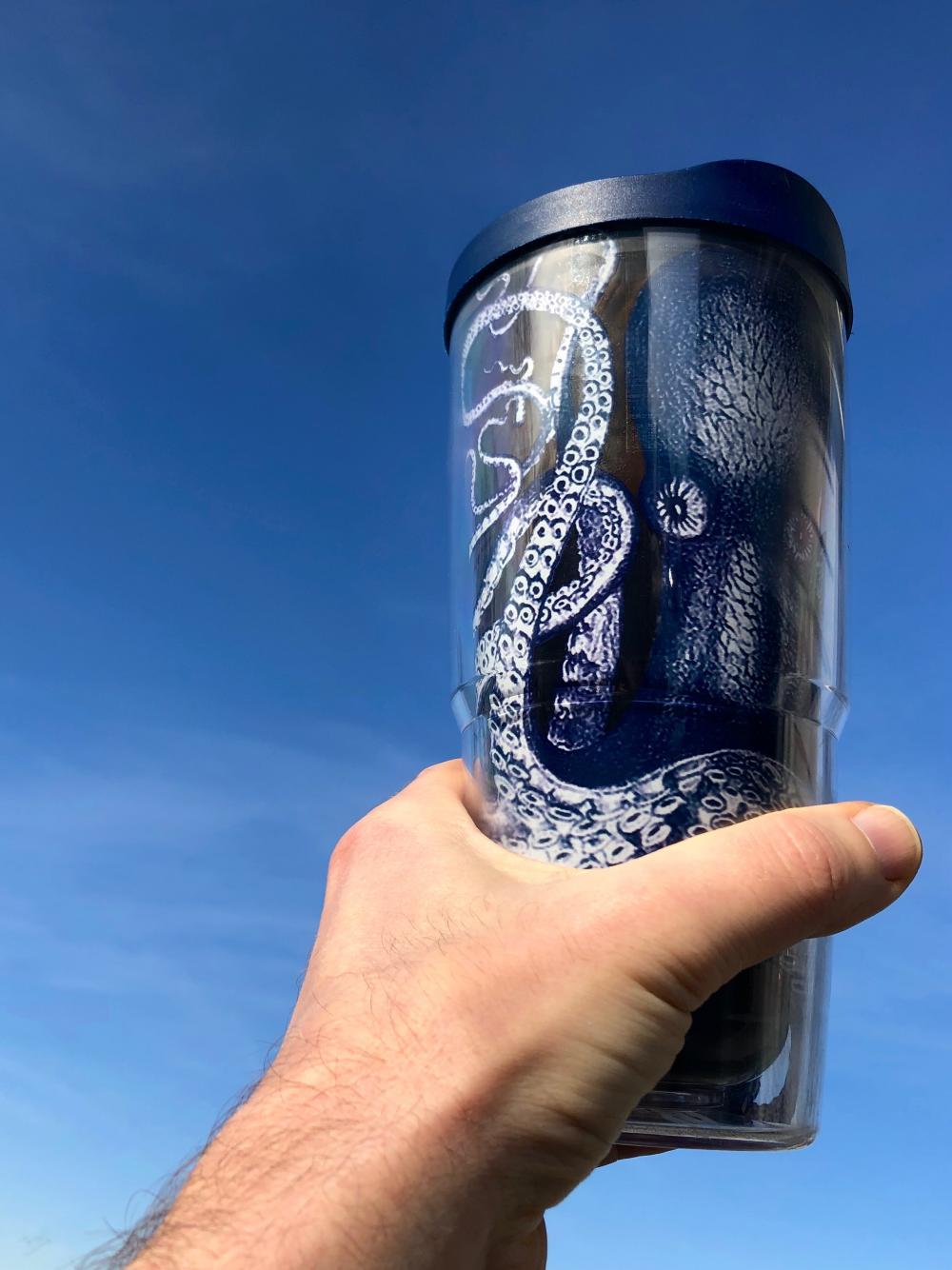 That there was another traveler traveling a similar path on this very day. Watching him feast from my mechanical four-wheeled steed, nary but a few hours from dawn's first light. To salute him in a way that let him know I approved of him savagely attacking his breakfast quest.
And also that I admired his simultaneous command of the steering wheel, McBiscuit, and the very Diet Coke bottle I so despised.
But I didn't.
Engaged and supportive readers, I was worried that I would break he and his horse's stride. Because seriously, this dude was going after each and every fallen crumb from his McBiscuit. I doubt if any escaped. Or if he abandoned any yellow scrap of folded egg as his mouth-scissors cut their way through the biscuit-bites.
So, sadly there were no traffic salutes. No shared stoplight connections.
Alas, our cars are often akin to isolated bubbles of oblivion. And having another driver willingly acknowledge whatever self-pursuit we're pursing can make us feel uncomfortable in our upholstered seats and fastened buckles. I didn't want to embarrass him as he was so eagerly and delightfully fueling his body for his next adventure.
When the light changed from halt-red to go-green his travels took him west and mine took me farther north.
Now as I sit eating the couscous I didn't spill yesterday, I wonder to myself if that dude's day could possibly have gotten any better. Any better than those few minutes he had alone. Enjoying his solitary but obviously satisfying, portable goodness.
I hope so.