Audio (MP3): 20171007 - Blade Runner 2049 ticket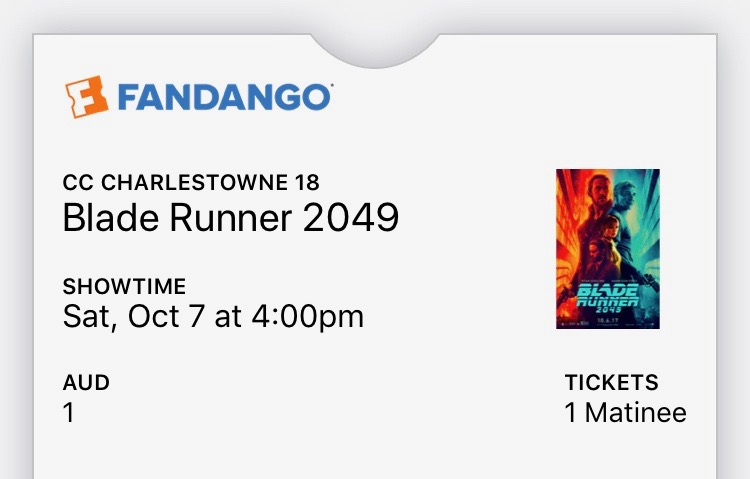 You're in a desert walking along in the sand when all of the sudden you look down and you see a tortoise. It's crawling toward you.
First time I've been to a movie by myself since The Phantom Menace. No weirdness so that's good news.
And the movie was good. I went in thinking it'd be just okay, went in with a beef against Gosling but he fit the character well. I can see why they chose him for the part.
Be aware: the background music and sound effects were the loudest I'd ever heard in a theater. Everybody was going to be paying attention to Blade Runner 2049, no dazing off.
I'll let you watch the movie without spoiling it. Well, one negative thing I will say is that if a character lights a cigarette then there should be smoke in that scene. Until he puts it out. Ya, this is minor but as an ex-smoker it bugs me.
Now I'll talk about the original Blade Runner and one of my pet peeves with that.
Okay, so Deckard is a replicant. You can see his eyes light up briefly when he and Rachael go back to his apartment after Leon roughed him up, threw him around, etc-ry. All the replicants have the shiny eyes now and then, that's the visual giveaway. And I like it. But I don't like that Leon did in fact kick Deckard's ass up and down the street just minutes before.
If Deckard was a replicant, what the hell? Ya, he may not have known he was an android and therefore wouldn't have known about his physical abilities, ie. strength, agility, and so on.
But…survival seems to be pretty key to replicants. The whole movie is about them not wanting to die, them wanting to live. And if Deckard was a replicant, why didn't that kick in during his fight with Leon? Or Zhora? When one is about to die our instincts take over. Unless you're a boob.